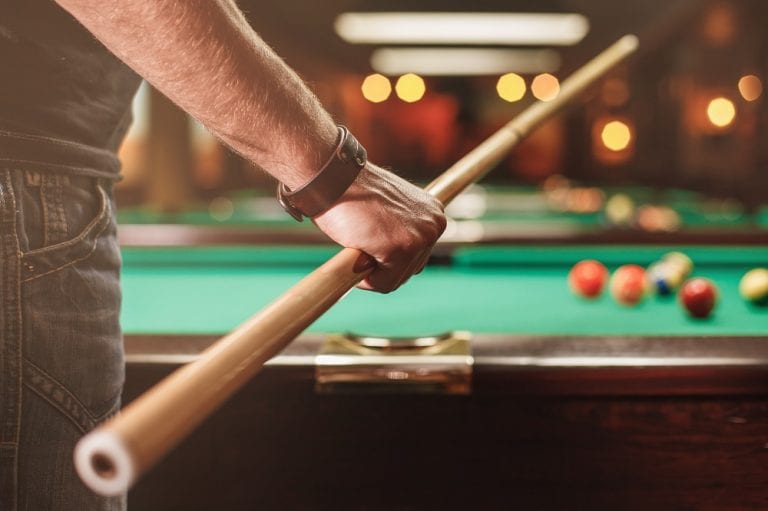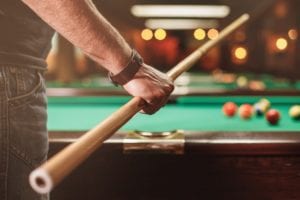 If you're an experienced player, knowing how to choose a pool cuemeans more than just grabbing what is available on the stand. Each cue is different and will provide you with various benefits during your game.In this article, we'll go over how to choose a pool cue and the various aspects of a cue to consider when making your selection.
How to choose a pool cue and items to consider:
Establish a budget: Pool cues come with a wide price range. So, it is necessary to consider how much you will use your cue, what you'll use it for, and the amount of money you're willing to spend on it. Plus, with a specific price in mind, you'll be better able to narrow down your options. The material from which it's made, its wrap, and the size are all factors that will affect the price of your pool cue. However, at Game's For Fun, there is a pool cue fit for every player and budget so you can be sure to find one that's right for you.Length: The length of cues varies slightly, depending on the needs of the player. On average, most cues will be between 57 to 59 inches. A standard one-piece cue will be at 57 inches, while a two-piece cuewill be 58 inches. One-piece cues are great for keeping in the game room. If you travel with your cue, having a two-piece is much more convenient for storage. If you are below average height or need a cue that is suitable for children, the best option is either 36 inchesor 48 inches. And you're above average height (6' 5") you might choose a cue that is 61 inches long.Weight:The weight of your cue corresponds with the length of your cue. If you are smaller or a junior player, a lighter cue will be much easier to maneuver. Pool cues typically weigh between 17 ounces to 21 ounces. However, most players prefer either 19 or 20-ounce cues. You must establish the correct cue weight for you, as this will affect your shot. So, be sure to try out your cue before purchasing. Check if the cue feels heavy in your back hand as most of the cue's weight is in the butt end. This is a good indication that you should opt for a lighter cue. Keep in mind that if the cue is too heavy, you can risk lifting the tip of the cue, which will skew your aim. Nobody wants to scratch like that!Cue Tip:Having the proper tip on your cue can transform your pool game dramatically. We carry different sizes and materials to fit every type of cue. Be sure to get the correct tip for your cue, as there are a variety of installment types. Most of our cue tips come in four separate hardness levels: super soft, soft, medium, and hard. Hard cue tips will last longer than softer styles, but they create a more difficult ball spin. Deciding which type of cue tip to get will depend on how often you replace your tip. When the tip begins to wear, it will affect your play.Choose a Comfortable Wrap:The wrap is the part of the cue that you hold with your back hand and that with which you'll have the most contact. So, you must make sure this is comfortable. Wraps might be made of linen, leather, or rubber, and some may not have a wrap at all. And these are not just for looks. Make sure to hold the cue in your hand and choose a wrap based on whichever feels best to you.One or Two-Piece Cue: These two varieties of cues are designed for either at-home use or travel. If you believe that you will most often keep your cue at home, a one-piece cue should suffice for your needs. These are not made for travel, but they tend to be a bit cheaper and are your best option for home play. If you plan to travel and compete outside of your home, however, we recommend opting for a two-piece cue as these can be broken down into two pieces for easy transport. Plus, when the shaft begins to warp on a two-piece cue, you can easily replace this and retain the butt of the cue.Don't Forget to Take Practice Shots:While it is important to consider each of these aspects while selecting a pool cue, the most crucial step is to try out cues for yourself! After all, you can take all our advice, know what the pros say, and do plenty of research– but until you try out a cue for yourself, you won't know which will best suit your playing needs. So, do not hesitate to come by our store and try out our wide selection of pool cues!
Knowing how to choose a pool cue is made easy with McDermott Pool Cues! Now available at Games For Fun:
Whether you just picked up billiards as a hobby or you are an experienced veteran, we have hundreds of cues for every level of player. One of our best sellers here at Games For Fun, McDermott pool cues, is among the West coast's top distributors. These are proudly made in the U.S.A. and are covered by a lifetime warranty. Our staff is happy to take you around our showroom in San Bernardino and show you all of the models we have available.McDermott manufactures and distributes some of the best pool cues and shafts in the world. As an American company, McDermott is known for its quality construction, exotic materials, and intricate inlays. These fantastic cues and shafts are for sale and are covered by a lifetime warranty against warpage and manufacturing defect here at Games For Fun.We are proud to stock just about every cue in McDermott's catalog. If you see a McDermott pool stick on our website, that means that it is in stock and will ship within one day! And if you're looking for a custom pool cue, we will work with you to customize a pool cue to your exact specifications.We hope that this article gave you better insight on how to choose a pool cue. And remember, no matter if you're a new or experienced player, casual or professional, McDermott brand connoisseur or not, we've got you covered! Plus, keep in mind that at Games For Fun, choosing the best pool cue for yourself does not have to be an expensive endeavor. If you are just beginning to play pool, don't worry about getting the best cue on the market. With our wide selection, you can choose from a variety of styles that can accommodate every level of player, starting at just $12.99. You can check out our entire selection online and at our showroom in San Bernardino. Stop by our store or reach out today and see for yourself all of the possibilities!