Preview: Take a look at these perfect Father's Day gifts for Dad's game room — from an antique pool table to a DIY dartboard cabinet.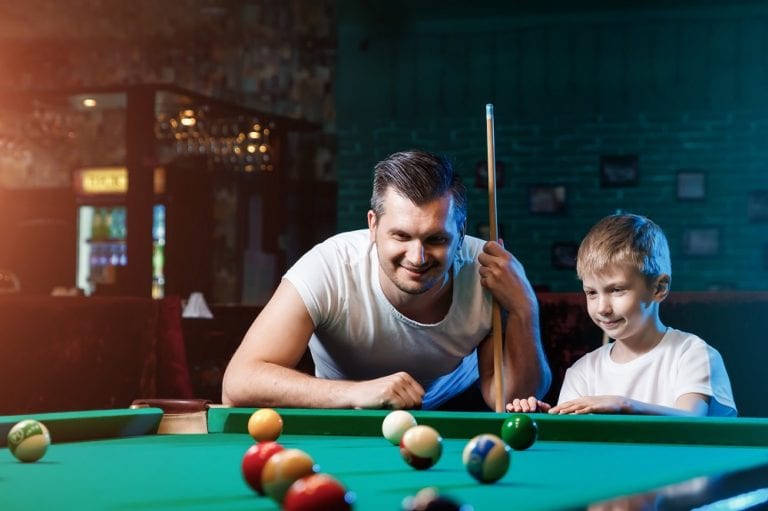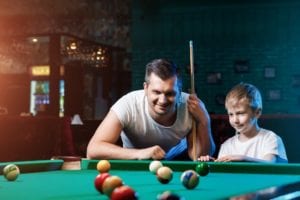 Father's Day is the perfect excuse to get more game room gifts for Dad. Skip the tie and cologne this year (nobody's been wearing them like that anyway) and let's focus on the fun.
Every dad is interested in something. Today we're focusing on the dads who like the real deal — billiards, pool, and more. These Father's Day gifts for Dad's game room or man cave are sure to impress Dad (and make the other dads in the neighborhood want to come over for a fun day of games (and lots of dad jokes)).
Awesome Father's Day gifts for the man cave
1. CLASSIC ARCADE GAME. Imagine Dad waking up to a classic arcade game with a big bow on it! I don't know about you, but my dad would be shocked and very excited. What makes a classic arcade game an even funner gift is that he can actually use it (even if he doesn't end up using it, just being able to say that he has one is good enough).  (That wallet you got for him last year might be used, but even an unused classic arcade game still scores high brownie points.)
2. ANTIQUE POOL TABLE. This is when the saying "old is gold" comes in heavy. There is a selection of highly sought after antique pool tables on the market, and Dad could up his bragging rights (and gaming skills) with this gift. There are also a variety of antique racks, cues, and accessories that you could pair with the table for the whole look! After all, a game room is all about themes.
Check out this selection of used and antique tables and start your search for Dad's perfect Father's Day gift.
3. CUSTOM BILLIARD BALL SETS. Whether it's graphics that showcase your team's home and/or away colors or an otherworldly metallic silver, stylized billiard ball sets make the game more interesting to play. There are also options on the market that allow you to customize billiard ball sets, so whatever Dad's favorite hobby is outside of gaming, you can pay homage with personalized billiard ball sets!
SHOP: Custom Los Angeles Angels billiard ball set HERE and custom galaxy style billiard ball set HERE.
4. BILLIARDS POOL TABLE LIGHTING. Nothing says "play your best game " better than having the right pool table lights. Maybe one of Dad's lights has been out for some time, or maybe he just needs an upgrade, or maybe a few extra light fixtures would look cooler. Regardless of the reason, billiard light fixtures are designed to put 100 percent of the lighting directly on the pool table. So when Dad is playing, he's guaranteed to have a little more focus with the extra lights.
5. TEXAS HOLD 'EM TABLE. For those Dads who prefer a night of high stakes to sports, you can get him a Texas Hold 'Em table that can seat up to ten players at a cup holder apiece! Or Dad could just do five players who get two cup holders… we'll leave that choice up to him.
6. PORTABLE BEER PONG TABLE. Dad needs a portable beer pong table… this isn't up for debate! (It is, but for the sake of Father's Day, it isn't.) Set it up in Dad's game room or man cave whenever. What's even better is that the beer pong table folds up and can be transported from the game room to anywhere else with ease.
Related article(s): Father's Day Gifts For The Game Room!; Game Room Decor: 25 Ways to Level Up Your Game Room;
Other gifts you can give Dad to compliment his game room (DIY-friendly)
7. A VERTICAL WALL-MOUNTED CHESSBOARD. This DIY vertical chess set hangs on the wall and is ultra convenient for those times when you have to stop in the middle of a game and don't have time to finish. With this gift, Dad can pick up where he left off anytime. Learn how to make it here.
8. DARTBOARD CABINET MADE OF WINE CORKS. The worst part about playing darts is that when you miss, it can damage not only your ego but also the wall behind the dartboard if it's not protected. But one solution to this problem is wine corks. All you need is a large frame, paint (optional), glue, and, of course, corks. The final product is a cheap, easy to make cabinet that will protect the wall behind a dartboard and look pretty good doing it — also: Dad will definitely appreciate it and put it to good use! Check out the tutorial here.
9. SCRABBLE WALL DÉCOR. These are so easy to make and are very inexpensive. You'll need a few materials, but what you'll mainly need is time. These giant DIY Scrabble pieces are ideal if Dad's game room has wall space that could use a little bit of love. Learn the easiest way to make large DIY Scrabble tiles here and here. And what's even better is that you could double these up as Scrabble coasters in lieu of drink markers or wine charms or use for outdoor decor (just be sure to apply an outdoor sealer/varnish to protect from the elements).
10. WINE BARREL DARTBOARD CABINET (WALL-MOUNTED). Have a sweet-looking barrel mounted to Dad's man cave wall — with a twist. Once opened, there's a game of darts ready to be played. This wine barrel/dart board cabinet includes a built-in wall protector and chalkboard to keep score. Check out details on how to make this here. Or you can purchase a pre-made one here.
11. PERSONALIZED MAN CAVE PLAQUE. This modern classic combines a vintage real-wood sign with a contemporary attitude. Perfect as a personalized gift for the man cave game room that allows authorized personnel only.
12. DIY "GUYS GAME NIGHT" COUPONS. These are the type of gifts that keep on giving long after Father's Day. Have your kids give him a few homemade "Guys Game Night" coupons that he can cash in throughout the year for a night with just the guys. Not only will this gift make Dad happy, but it's a fun activity for your kids as well! Your husband could even cash in one of those coupons for a day with the kids and give you a break, so, really, these are gifts are for you, too! You're welcome.