Foosball is sure to be the life of any party. It is ultra-competitive, all-age appropriate, and spectator friendly. So, if you have a game room, office space, or pub that needs some livening up, we recommend the crowd favorite, foosball table! But with so many variations and options of tables, it can be hard to decide which one is right for you. That's why we've composed our world-famous foosball table buying guide! (Okay, it's not world-famous, but it will assist you in choosing a table that will bring joy to your space for years to come!)
Let's start with the types of tables from which you can choose….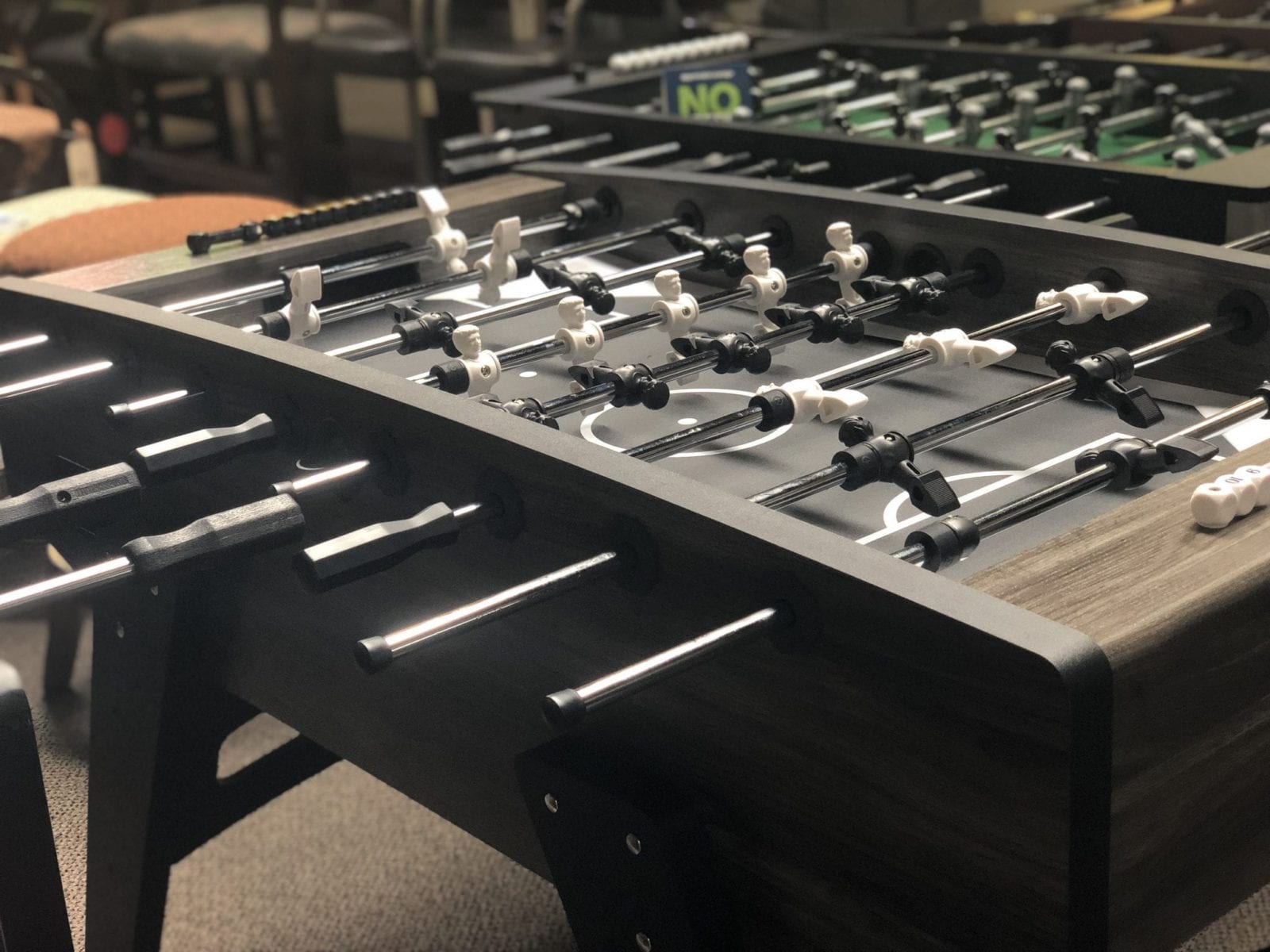 Table Top Units: These are typically your least expensive option. But you have to consider the type of player for whom you buy. This type of table is more like a toy and is best suited for children. If you anticipate some more serious play, you may want to forget about this option. Multi-Game Tables: Can't decide on your favorite game? With a multi-game table, you don't have to choose just one! Thanks to its removable parts, a multi-game table allows for your table to be transformed into several other games. However, this feature does diminish the quality of the table, making it unfit for serious foosball playin Stand-Alone Foosball Table: This is for serious play. With a stand-alone table, you can go ahead and get your game face on because this table is ready for action! It is made to withstand every hit and each triumphant goal. With these, the playing surface and overall quality of the table will be enhanced. And don't forget, be sure that you have sufficient space for whichever table you choose. Remember that during a game, players and spectators will need to stand around the table with enough distance. A full-sized table measures 56 in. X 30 in. X 36 in.
Now think about who will be playing….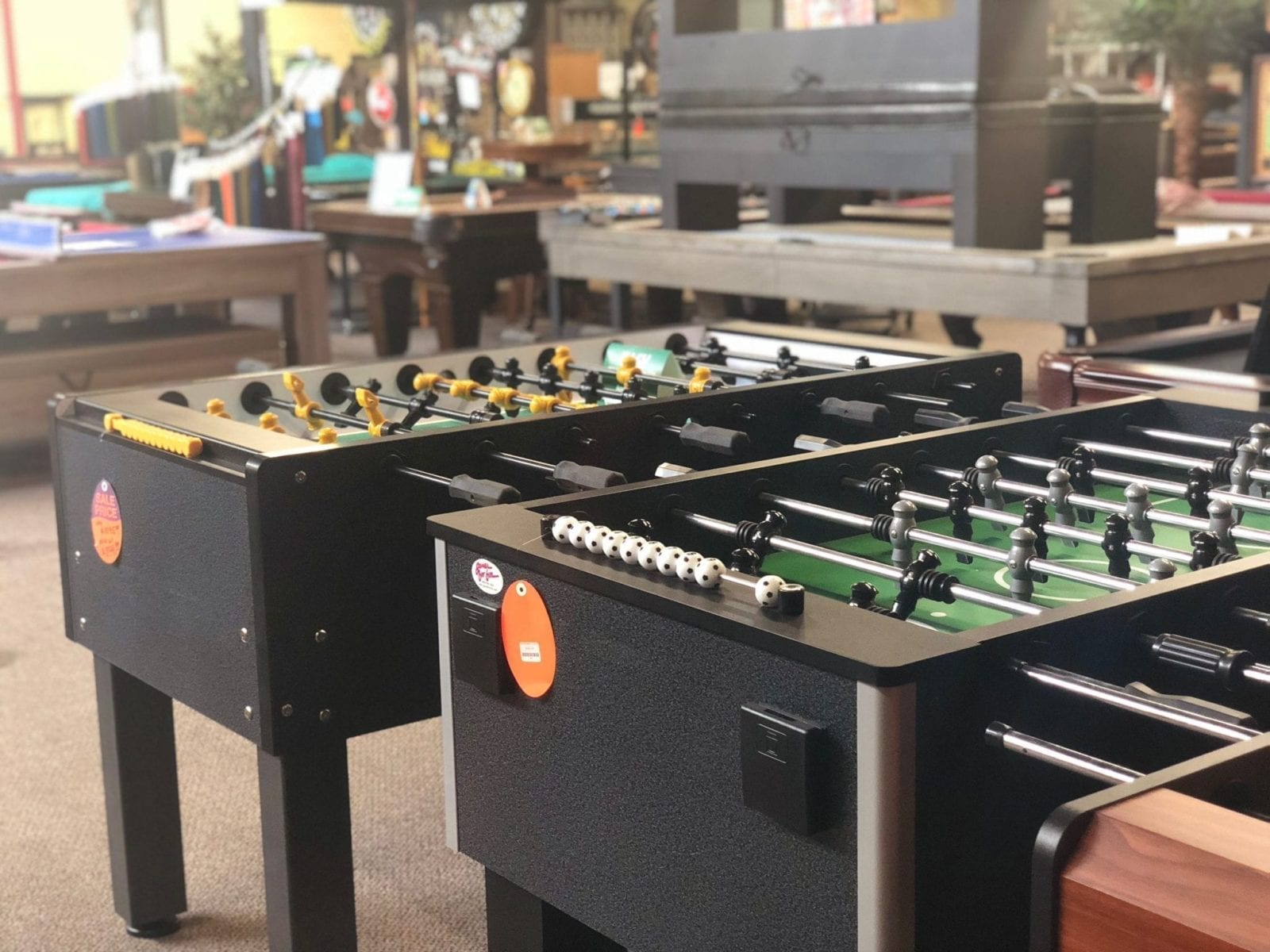 Kids
: If you're looking to introduce your kids to the wonderful world of foosball, there are a few things to consider when purchasing a table. Ask yourself what you want out of it: something they can enjoy for years, or just something for now. Also, look for tables with adjustable leg heights and telescoping rods for their safety. For anyone else: We recommend opting for a table that is at least mid-level in quality. Durability and longevity are vital as you consider the amount of force it will take when adults play.
Finally, consider these details before buying a foosball table…
Playfield: How much action are you hoping to achieve in your foosball games? Looking for it to be fast and furious or a slow and friendly competition among friends? The hardness of your table's playfield will determine the speed of your game. If you choose one made of wood or particleboard, your game will be a bit slower. But with laminate and even-tempered glass, you can expect to have action-packed games no matter what. Player rods: These rods control your players and extend out of either side of the table. And they come in three varieties: hollow, solid, and telescoping. Hollow rods are lighter, making them slightly faster to maneuver. In contrast, solid rods are heavier, making them a bit slower, yet more powerful. And telescoping rods are made for optimized safety. While they are more expensive and less durable, these are great options for younger players. Leg levelers: While these are explicitly useful for young and shorter players who may need a height adjustment on the table, these are also helpful if your table will stand on somewhat uneven ground. After all, nothing is more annoying than a wobbly foosball table! No matter the table you choose, whether it needs to accommodate for your smallest players or your most competitive, it is sure to bring endless hours of entertainment! And if you would benefit from discussing your options with a game expert, do not hesitate to reach out to us at Games For Fun! We are experienced and well-versed in the game industry and love to share our knowledge on this fun-filled subject. Reach out today for your next foosball table and get ready for some serious fun!